Recent Posts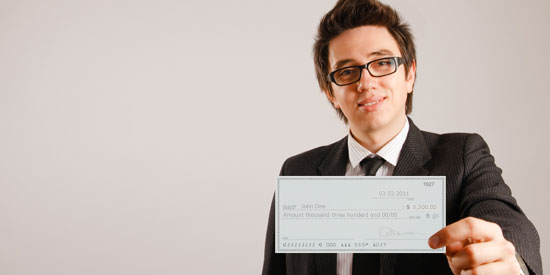 How should I spend my first official paycheck?
Whether it's a $30,000 salary or $130,000, your first "real job" is probably the biggest income change you'll experience. Sure we'll get gradual raises here and there, and maybe even a major promotion or two, but going from an income of nothing to a full time salary is quite a jump.
As a result, managing your first few paychecks can be difficult. It's easy to overestimate disposable income and end up spending money on things you really can't afford. Rent, food, loan payments, and other necessities are obvious items to add to your budget, but there are other essential expenses you might not realize. Here are some tips on what to do with your first paycheck:
Emergency Savings
Bad things happen to good people. That's just the way life goes, so you need to prepare for the worst. Layoffs, car accidents, unexpected illnesses; whatever the case, you should have between 3-6 months of living expenses saved to prepare for life's unexpected expenses. It may seem unattainable at first, but saving a little bit at a time will help you reach it. And, once you have 3-6 months of your living expenses safely stored in your savings account, you'll sleep a little better at night.
Read More