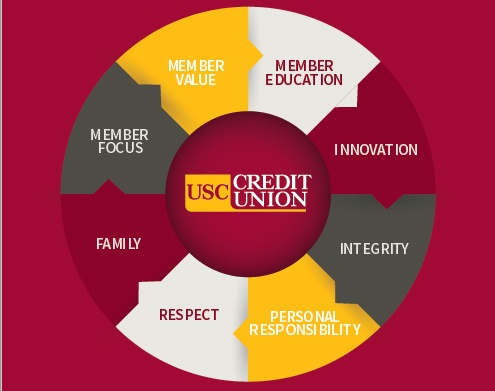 Who you choose to bank with is a very important decision. There needs to be a rapport of trust, accessibility, and communication between you and your financial institution. At USC Credit Union our account holders are not customers, they are member-owners of the credit union. As a not-for profit, our excess earnings are returned to our members in the form of better rates and lower fees. Our members are part of the integrated family of USC students, faculty, staff, alumni and members of the LA and OC communities. Building trust starts with understanding who we are, what we stand for and what matters to us most. Whether you are already a member or still researching, please take a moment to read and reflect on our Core Values. These are not just words on a plaque. This is what we value and this is why we come to work every day.
USC Credit Union Core Values
1. Member Focus

We will operate USC Credit Union for the benefit of the member-owners that own our cooperative, elect the Board of Directors, and employ the staff.
2. Member Value

We will provide value in all we offer our members by carefully managing operating expenses, responsibly investing member deposits, and maintaining only the capital necessary to ensure the safety and soundness of the organization. We firmly believe that a non-profit, tax-exempt, member-owned financial cooperative should offer shares, loans and transaction services at rates and fees superior to our commercial competitors.
3. Member Education

We will be a trusted purveyor of objective financial education to our members so that they may make informed financial decisions, without regard to whether they purchase products or services from USCCU.
4. Innovation

We will strive to develop creative and extraordinary products, services, delivery mechanisms and internal processes that fulfill the unique needs of our member-owners.
5. Integrity

USCCU management, staff and volunteer officials will conduct their personal, professional and financial affairs with honesty and integrity.
6. Personal Responsibility

We will be accountable for our words, deeds, actions, and inactions.

7. Respect

We will, without exception, demonstrate the deep respect we have for our member/owners, volunteer officials, fellow employees, regulators, vendors and, of course, for the service ideals of the CU movement.
So while banks pay stockholders first, we really do put you first. With USC Credit Union, your future starts now. Not a member yet? Learn how to become one here.