As a part of our committed partnership with USC Athletics, we offered USC fans the chance to win a once in a lifetime Trojan experience to the USC vs. Notre Dame game on Novemeber 29th, 2014. The winners will receive:
2 passes to the Fox Sports Tailgate

2 sideline passes to the USC vs. Notre Dame game

The opportunity to join legendary Voice of the Trojans, Pete Arbogast in the radio booth and call the first play of the second half live on the air!
Last week the winners were announced and we would like to say congratulations to Ryan McCoy and his son Van for winning our USC Credit Union Unforgettable Trojan Experience!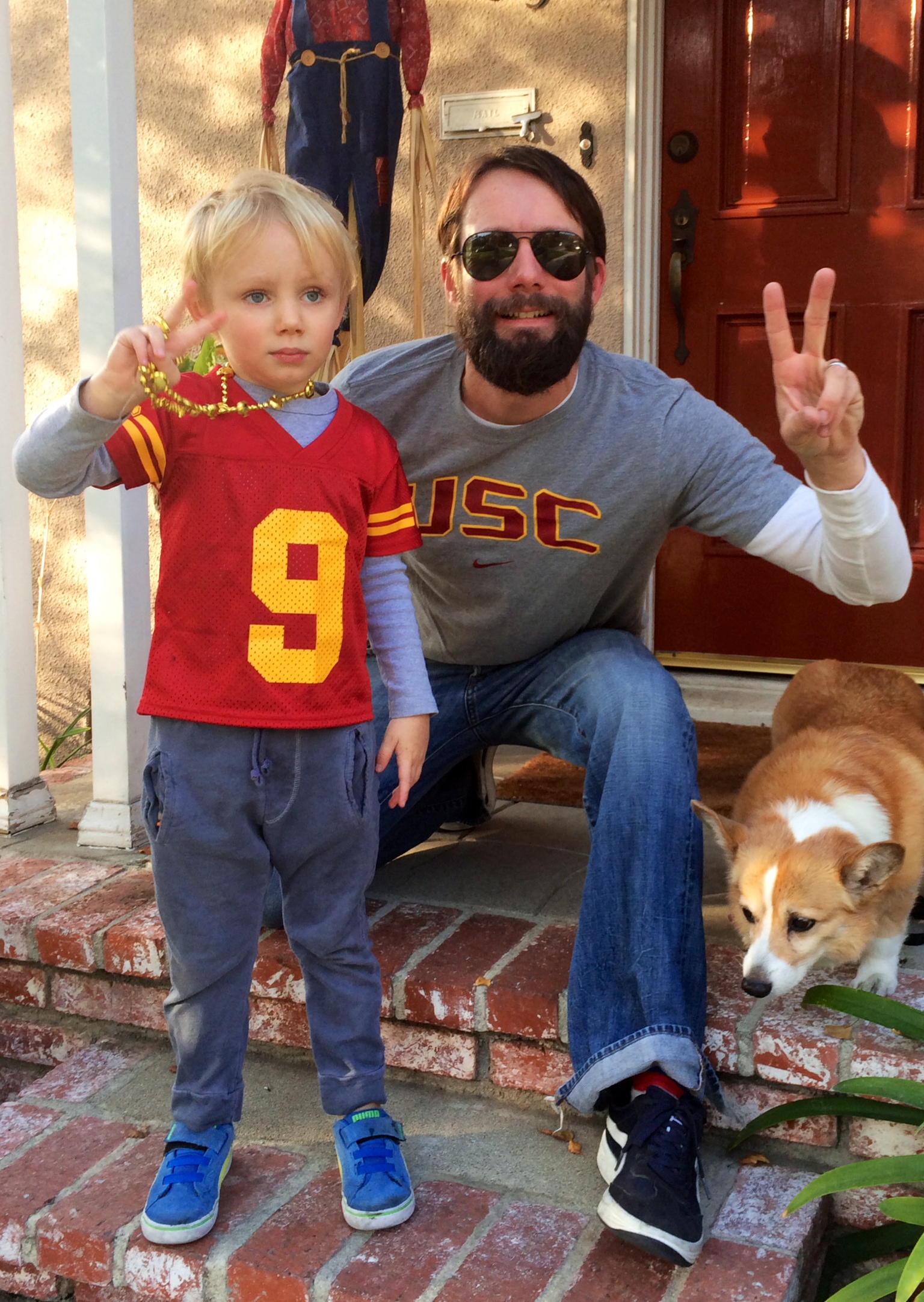 Ryan McCoy graduated USC in 1997 with a degree from the CNTV Production Program. Here at USC, McCoy met his wife Sarah Trudell-McCoy. McCoy is persently an aspiring cinematographer currently employed as a set lighting tech on CSI: Vegas. Sarah was an English major (1996) and is currently the Executive Director of the Parents Programs in University Advancement at USC.
After asking McCoy what he loves most about USC, he told us "I love the identity of being an alumnus of such a prestigious university and I love the fact that I live in the city where my alma mater is located and has such a strong community impact."
Like every Trojan fan, McCoy respects and honors the USC/Notre Dame rivalry. McCoy looks forward to this game every year as it can define the season and provide momentum and conversational fodder for the long off-season. Every time these two teams take the field against each other an incredible historic tale is extended.
McCoy also told us that his "late grandfather attended Notre Dame. I cherish the memories of razzing each other around this time of year." Sarah bought her husband season tickets for a wedding gift 10 years ago and has renewed them every year since. We are happy to present the McCoys with this award and wish them a fellow "Fight On!" when they take the field Novemeber 29th, 2014 to cheer on our Trojans.

While we are on the subject of winners, we need your help! Last year we defeated Notre Dame Federal Credit Union in the Credit Union Charity Challenge, winning $10,000 for Troy Camp. We're facing off again this year and once more a $10,000 donation is at stake. Both credit unions have committed $5,000 and the credit union that receives the most auto loan applications between now and November 29 will receive $10,000 to donate to the charity of their choice.
There is still time to help us win! Apply for for an auto loan today and show the "Fighting Irish" the true meaning of "Fight On!"