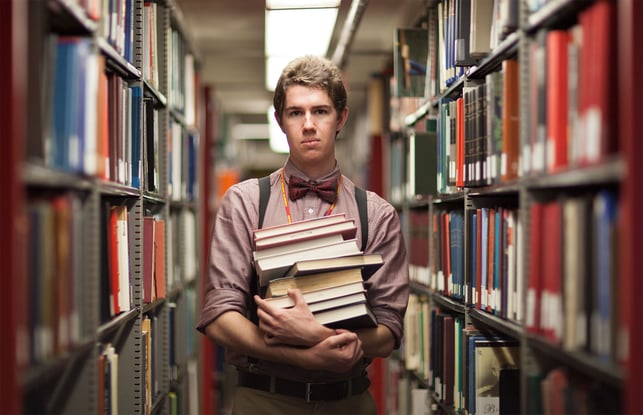 No matter what your impression of college was before you actually arrived on campus and started classes, your preconceived notions inevitably changed. You may have thought you'd have more time to party; you may have thought people would be different; you may have thought the classes would be less stressful. No matter the details, though, you probably thought one thing: that college wouldn't be quite this hard.
Finding little ways to make your college life easier can take some dedication, but with a little work (and consistency), you might be surprised at how a few little changes can make a big difference.
Eat Well
Fortunately, college is full of all kinds of delicious, tasty, tempting food options. Unfortunately, however, college is full of all kinds of delicious, tasty, tempting food options. That muffin you grabbed for breakfast might really be cake in disguise; those noodles you had for lunch were all carbs and no protein; and the pizza you had for dinner was definitely lacking in things your mother would be proud of. At the end of the day, your body ends up missing out on all of the fruits and veggies, water, and overall nutrition it needs to be its best. Start small if you have to -- aim for one truly healthy meal a day to start -- but aim to eat well so that you have the energy to make it through your crazy days.
Get (Enough) Sleep on a Regular Basis
The key word in that last sentence: regular. The ebbs and flows of college life often make it very difficult to always get enough sleep. And finding the time to get enough sleep can be really, really hard. So if you have to stay up late here and there, that's okay. But aim to get enough sleep on most nights so that you aren't a zombie more often than not.
Find Time to Exercise
Sounds ridiculous, right? With every 15 minutes of your day scheduled, finding time to exercise while in college can seem like Mission: Impossible. Just like eating well and sleeping enough, however, exercise ends up giving you more time than you put in. If you're exercising on a regular basis, you'll increase your energy level. Which, in turn, will make it easier for you to keep all of your commitments.
Find an Outlet for your Stress
There are tons of ways to relax in college. Find one that works for you. And if you've tried a few that haven't worked, try some more. Sometimes you have to mix it up a little so that your brain gets the best break possible. Because, after all, a relaxed and focused brain makes your daily college life a lot easier to handle.
Stay On Top of your Finances
Ideally, most of your financial logistics are taken care of at the beginning of the semester. Your loan papers and scholarships go through without a hitch and you know just how much money you have until the end of the semester. But how are you going to get your money on a daily basis?
USC Credit Union offers a simple account that covers all the essentials. If you're a USC student, USC Credit Union offers this college student checking account to you free while in school. It's even easier to set up, you can skip the line and open your account online. Other benefits include:
Home Banking
Right from your desktop, you can securely transfer funds between your USC Credit Union accounts and other financial institutions, as well as pay bills, access your accounts, and more.
Online Bill Pay
Whether you have a recurring payment (rent or mortgage, loans, or monthly bills like cable or cell phone) or a one-time payment, you can avoid late fees or forgetting to make a payment by setting up Bill Pay through USC Credit Union.
Mobile Banking
With USCCU Mobile Banking, it's easy to check available balances, make transfers between shares and loans (for auto and personal loans), view your transaction history for the last 90 days, and quickly locate branches and ATM's. Additionally, with our Mobile Banking app, you can deposit checks (currently available for iPhone, iPad, and Android devices), and even pay bills.
Shared Branches and ATM's
USCCU is a proud partner of the CO-OP ATM and Shared Branch Network. Joining with other credit unions nationwide allows us to offer our member-owners fee-free use of more than 30,000 ATM's (including at 7-Eleven, Walgreens, and Costco stores) and 6,800 credit union branches across the country. You can walk into any one of these branches and conduct business as if you were in a USCCU branch. Though you may encounter challenges as you travel, easy access to your funds won't be one of them!
Doing college is something you'll learn by doing in some cases but USCCU is here to ensure that your financial needs are met. Learn how it's done here.
Sources: About Education