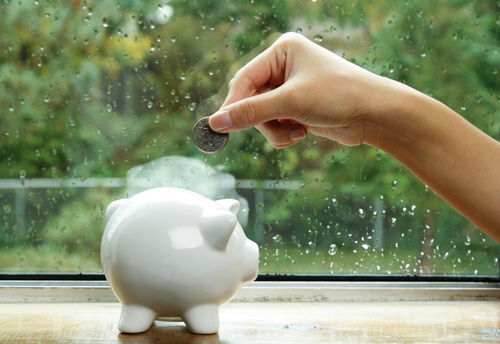 img source: http://blogs.missouristate.edu/reallife/2015/11/17/saving-for-a-rainy-day/
Life is like a roller coaster. It has its ups. It has its downs. The one thing that makes life vastly different from a roller coaster however, is that the ups and downs are predictable on a roller coaster--you know when you're on an upward climb, and you know when you're about to go down a huge drop. Life, on the other hand, has ups and downs that are unpredictable. This is why it is so important that we have rainy day savings.
The importance of having emergency savings might seem obvious, but surprisingly, according to bankrate.com, just 37% of Americans have enough savings to pay for a $500 or $1,000 emergency. This means that 63% of Americans do not have enough to cover a rainy day emergency, and would need to resort to charging their credit card, or borrowing money from family, friends, or a financial institution.
A great new year's resolution is to start saving money for a rainy day. And if the possibility of a financial emergency isn't enough incentive to save more money in 2017, think about this: if you save money, you might be able to go on that vacation you've always dreamed of, or begin the process of purchasing your first home.
So how should you save money? You can simply commit to putting some of your paycheck away in a savings account each month, or you can be creative and look at ways you can cut down your current costs. For example, if you currently have any outstanding balances, (i.e. student loans, auto loans, credit card debt), you might be spending loads of money on interest. USC Credit Union wants to offer you an opportunity to refinance your student loans. USC Credit Union wants students and grads to succeed financially. This is why we pass along our profits to you in the form of bank-beating rates that can greatly reduce the cost of your student loans. We refinance and consolidate both federal and private student loans. Find your new, low rates here!
Don't have students loans, but want to pay off your credit debt? You can pay off your credit card faster by transferring your credit card balance. USC Credit Union offers a Platinum Rewards Mastercard with 0% APR for 15 months. By transferring your balance over to us, you could save yourself a ton of money that would have gone to interest payments at your current bank. Learn more about our Mastercard Platinum Rewards credit card. The money you save from refinancing or transferring your balance can go straight to your emergency savings account. Then, next time life unexpectedly hits you with a rainy day, you will be well-prepared!
A little bit each day can establish a great savings for the future. Learn how USCCU can help you save here.