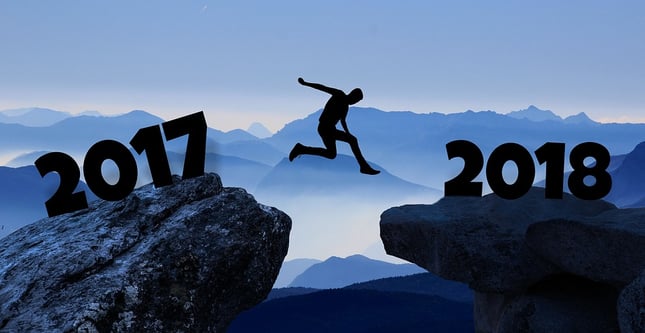 January is now well underway. This could be the year for big changes…
1. Make Your Home Dreams a Reality
This may be the year you decide to leave that small apartment you've had since your ramen days. You're not alone! Millennials are expected to be 43% of home buyers in 2018. Don't leap without looking, however. Make sure you are financially prepared. Before you pick out your dream home, get informed about the process. Download our Home Buyers Guide eBook to ensure you are ready to make that leap into becoming a homeowner.
2. Live #DebtFree
You are not alone—we are here to help! Has the holiday season lingered into 2018? Not only do you still have decorations lying around, you also have holiday bills from store credit cards! Luckily, you can transfer those balances to a USC Credit Union MasterCard and pay lower variable rates. With a 0% APR* introductory offer on purchases and balance transfers, you can easily manage your payments. You should also pay off bills that have higher interest rates to save the most in the long run. To learn about more ways to pay off your debt, check out our FREE ebook on how to live debt-free!
3. Stay organized!
To make sure you actually keep your resolutions this year, you need to stay organized. Make becoming financially healthy one of your major lifestyle changes. Learn how to budget with Financial Focu$, our free online educational resource. Once you make your plan, stick to it! The best way to take control of your finances is by managing them. That is why we also have a variety of free ebooks and other resources to help you reach your goals. Make 2018 the year where you can achieve financial freedom!
To learn more on these topics in free seminars, check out our events page!

*APR (Annual Percentage Rate) is effective January 18, 2017 and is subject to change. Your regular variable rate is determined by creditworthiness and payment history, and may vary. The minimum monthly interest charge is $0.50. The 0.00% APR for purchases and balance transfers made during the qualifying transaction period within the first 6 months of account opening. All purchases, net of returns, qualify for the promotional APR. The promotional rate will remain in effect until the end of the 15th billing cycle billing cycle after account opening, thereafter, the standard rate of 10.40% to 17.40% for purchases and balance transfer applies. Except for existing USC Credit Union loans, all balance transfers qualify for the promotional APR. There is a 2% Balance Transfer Fee of the total amount transferred per transaction or $10, whichever is greater. Membership eligibility requirements and membership fees may apply; please call (877-670-5860) or visit www.USCCreditUnion.org to confirm eligibility. This promotional rate is available for a limited time, and rates and terms are subject to change without notice. Click here for full disclosure.