When it comes to purchasing a home, people have many misconceptions, says Craig Garcia, president of Capital Partners Mortgage.
"The homebuying process is harder than you think," says Garcia, who is based in Florida. "But the more prepared you can be, the better experience you will have."
To help make sure your home buying experience is positive, study these real estate and mortgage myths and truths:
MYTHS ABOUT HOME BUYING
1. You need a 20% down payment
There are various loan options available and the amount you put down will fluctuate. Speak to a mortgage consultant about your current position and your options.
2. Put down as much as you can to lower your monthly payment
You'll want to be smart about the amount you put down on a house so that you don't deplete your savings. You should be comfortable with what you put down knowing that unforeseen circumstances may come up and you will be prepared.
3. Save money by bypassing the real estate agent of mortgage broker
This may be the truth in some cases, but this could also mean a lot more stress for you. There are many problems that could come about when there isn't a professional lending their advice.
4. If you get a pre-qualification, you will be approved for a mortgage
Getting pre-qualified for a mortgage does not guarantee that you will be approved. The pre-qualification stage gives you an estimate as to how much you may be able to borrow and also positions you as a serious buyer.
5. Credit score damage will crush your home dreams
Just because your credit score may not be perfect, doesn't mean you won't be approved for a mortgage. Keep in mind that you'll likely have a higher interest rate since you are viewed as being higher in risk.
TRUTHS ABOUT HOME BUYING
1. Finding a home takes time
Mortgage loan applications take time to close and you don't want to rush the process of finding a house to end up unhappy with your purchase.
2. Once you find a new home, be prepared to move quickly
Homes can sell very quickly so be prepared for the process before it even begins. You'll save yourself the headache!
3. Small savings add up over time
Your credit score will impact your interest rate which is why it is so important to focus on improving your score when thinking about buying a house. Check out some credit score-boosting tips in the infographic below.
Learn more tips on home buying and mortgage basics.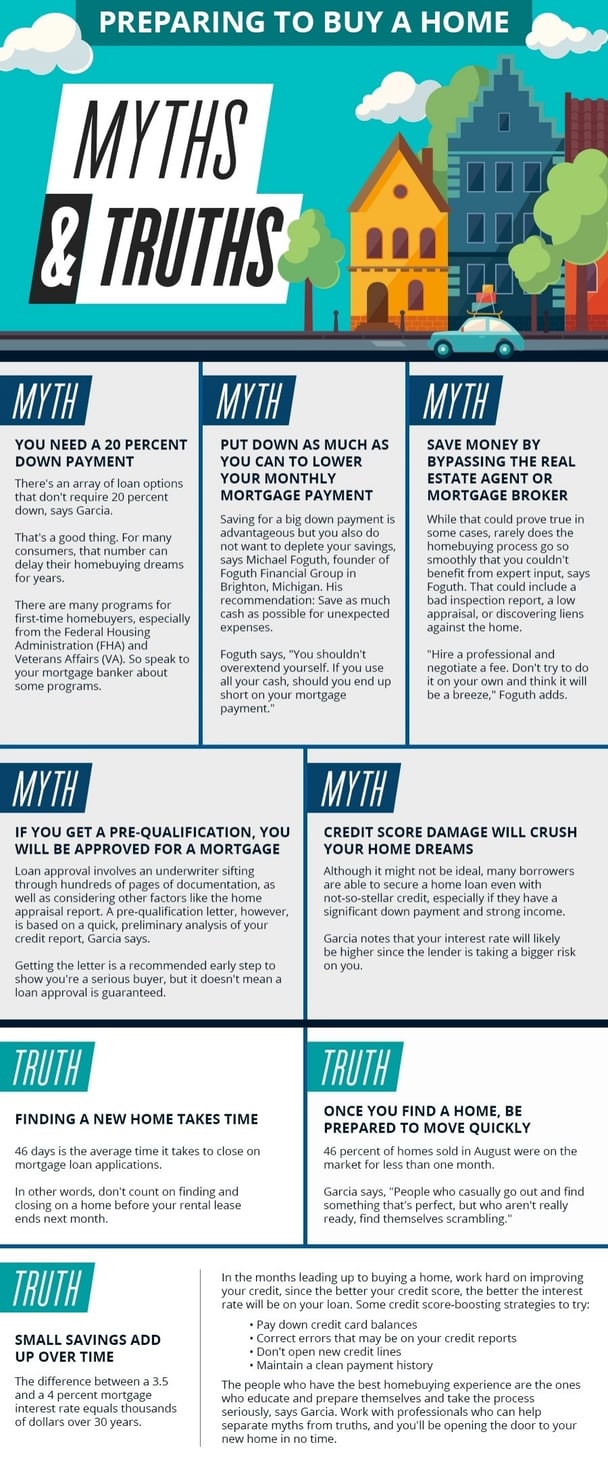 Source: Chase.com