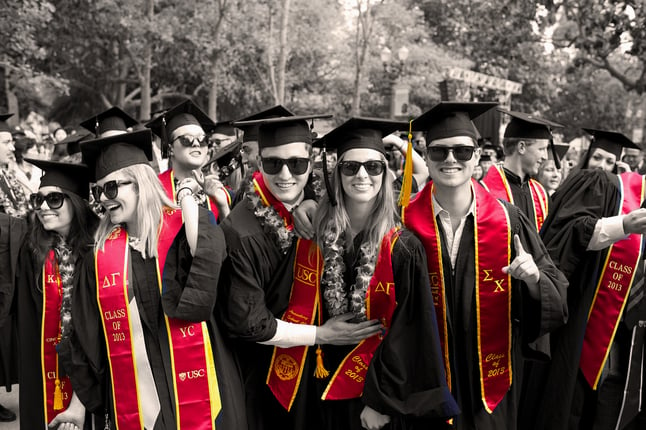 Striking out on your own after college can be challenging for financial novices. For graduates with record student loan debt and entry-level jobs or worse, no jobs at all, learning to manage debt wisely will pave the way to a good credit score. That in turn creates opportunities down the road, including the possibility to refinance student loans at a better rate.
While it's not the only way to build credit, a credit card may be a good place to start, you just have to make sure you can pay it off every month. In fact, only 40 percent of people ages 18 to 29 do pay off their balances each month, compared with 53 percent of adults over age 30. And 18- to 29 year-olds were also most likely to miss payments completely, according to a recent report by Bankrate.
As a result, many millennials are forgoing credit cards and as a consequence establishing a credit history altogether. About 63 percent of millennials don't have a single credit card, compared to 35 percent of adults over 30.
"There is a lot of fear of credit cards in the wake of the financial crisis," said Matthew Goldman, CEO of credit card comparison site Wallaby Financial, a division of Bankrate. "They are afraid of not being able to control themselves."
"From a healthy financial perspective, they may want to avoid credit card debt and use only debit cards — that's a short-sighted view," said Sean McQuay of Nerdwallet. "You need to build a credit profile."
Other forms of debt for those just starting out, like student loans and car loans will also help establish your credit profile, as long as the payments are made on time. Some alternatives to credit cards, like debit cards linked to a checking account, or prepaid cards, which act as a defense against overdrafts, can help build good habits, but right now neither contributes to a credit history.
An easy way to build credit is to refinance your student loans. Refinancing your student loans with USC Credit Union can help you consolidate and decrease the interest rate on your existing student loans and help you increase your credit score.
Also, choosing the right type of credit card can make a difference. Grads who have never had a credit card before will likely need a secured credit card to start. Some secured cards require a cash deposit that then serves as the credit line, which can be a good fit for those without a proven payment history.
To skip the secured card route, there are cards that require a co-signer. In that case, the parent, or co-signer, is responsible if the account isn't in good standing.
If you are considering graduate school and still have an email address with an ".edu" extension, you may be eligible for a student card that offers an initial bonus and cash back on gas and groceries. These types of cards, however, may suddenly expire when you graduate or turn 25, and you could be automatically rolled into a new card with fees, fewer rewards or a higher interest rate.
If you have a full-time job and enough of a credit history to get a standard credit card, you may want to choose a card that offers cash back with no annual fees. One great card for recent graduates is the USC Credit Union Platinum Mastercard, which has no annual fees and a 0%APR introductory offer.
With any card, aim to keep the credit utilization below 30 percent, which means, for example, only spending $300 each month if there's a $1,000 limit, and paying the bill in full, McQuay said. Just like college, "your credit card should be viewed as a long-term bet," he said.
"Someday, every recent grad will want to buy something on credit so they need to invest in a good credit score now," he added, "otherwise, it will be too late."
Trojans, your time is now. Build good credit now, refinance your student loan, and reap the benefits when its time for major purchases like buying your first home. Learn how USCCU can help you do all of this here. Fight On!
Source: Nerdwallet