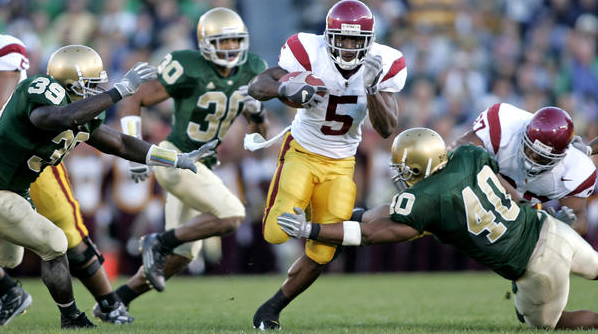 Image source: Los Angeles Times
The USC/Notre Dame rivalry runs deep. The football rivalry, which began in 1926, is considered one of the most important in college football, and is often called the greatest intersectional rivalry in college football.
From 2002-2009, 2011, and 2014 the Trojans have crushed the Fighting Irish, and every year since, millions of fans tune in to see if once again, USC will demolish Notre Dame's dreams and come out on top. But it's not just our football teams that are competing; every year, our credit unions compete as well.
Starting today, the 3-time winner, USC Credit Union, and Notre Dame Credit Union will compete in the inaugural Credit Union Charity Challenge Bowl, with a grand prize of $10,000 to be gifted to USC Good Neighbors. Good Neighbors provides grants to create partnerships with community groups that benefit the neighborhoods around campus.
This year's challenge is to get the most credit card applications before kickoff on November 29th. If you have been thinking about applying for a credit card, now is the best time! USC Credit Union offers credit cards with 0% APR for 15 months AND exclusive Trojan rewards. Apply for a USC Credit Union Credit Card today--we'd love to see the Fighting Irish's credit union make another donation to USC Good Neighbors!