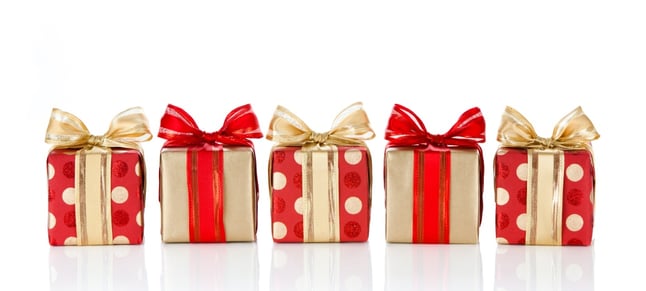 image source: http://www.buffaloeats.org/2015/11/29/giftguide2015/
PSA: The holiday season is right around the corner!
There are so many reasons why the holidays are special: pumpkin spice lattes, ugly holiday sweaters, holiday music, yummy food...but my personal favorite is the spirit of the holidays. Holiday spirit encompasses so many good things like joy and cheer, camaraderie, and generosity.
Gifts are one way we express love and appreciation for one another during the holidays, and this is probably why we tend to be especially generous with our gift-giving during the holidays. In fact, gifts for family and friends are consistently the highest spending category during the holiday season.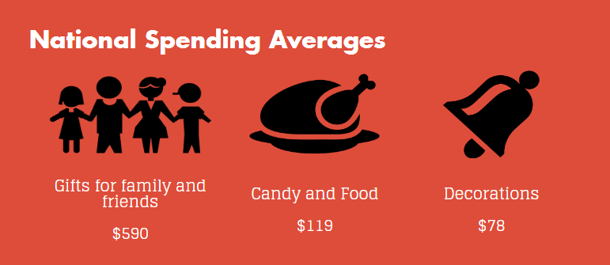 Source: NRF, Prosper Insights and Analytics.
I want to be generous during the holiday season, but sometimes when the holiday bills roll in, I have a "ho ho UH OH!" moment. Do you resonate?
Here are some tips to maintain a generous holiday spirit without breaking the budget:
1. Budget
This is an obvious tip, so why don't all shoppers do it? Decide how much you want to spend, in total and per person, and don't go over that amount.
2. Shop Online
Tell websites such as Shop It To Me and zingsale what you're shopping for and get alerts when it's on sale. RetailMeNot gives you access to coupons from more than 50,000 retailers.
3. Buy a $100 gift card for $80
Get gift cards below face value at a Costco store, Costco.com, or cardpool.com. And do you have gift cards lying around you'll never use? You can sell them at cardpool.com and get cash for your holiday budget.
4. Unwrap the savings with a holiday loan!
This holiday season, USC Credit Union wants to help you give generous gifts to all the people you love. If you still find yourself reaching for that high-rate credit card to pay for your holiday shopping, then think again.
USC Credit Union is here to make your holiday season more enjoyable with our holiday loan options. Check out more here and learn why you should make the switch.