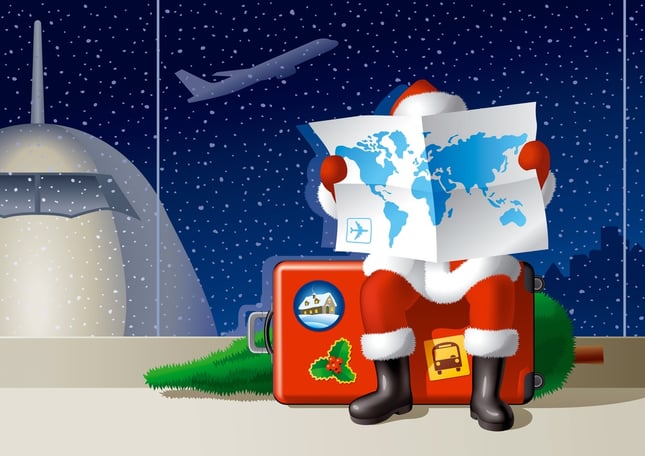 img src: http://www.sellmytimesharenow.com/blog/2015-holiday-travel-how-to-save/
This past Thanksgiving, I had the privilege of traveling to Seoul, South Korea. I was there for six short days, but each day was jam-packed with fun: I ate delicious food, swam in coco puffs at a Korean spa, rode a cable car up a mountain, explored a Korean palace, rode the subway, and marveled at Korea's first snowfall. I realized a few things from my time in Korea. First, Korean food is amazing and I feel truly lucky to live near Koreatown where I can continue indulging in my favorite Korean dishes. Second, Seoul is a great place for solo-travelers, because the subway system is great. It is clean, reliable, and traverses all of Seoul. Also, all the signs are written in English, which made it really simple for me (a barely-able-to-speak-Korean person) to navigate. Third, even though traveling costs money, it doesn't have to cost a LOT of money. Here are four financial travel tips from myself, as well as from USC Students who have been studying abroad this semester!
Holiday Travel Tip #1: Set a Daily Budget
I spend a lot of time worrying about money. Traveling is the one of the rare times when I don't want to worry about money restricting me from doing various activities. Thus, something my friends and I did before we went to Korea was estimate how much we would typically spend on food and attractions in a given day. We did research online, and figured out how much certain activities would cost ahead of time. It is always better to over budget than to under budget. The perks of over budgeting for your trip is that you have cushion for the days you end up splurging on a meal, or you might end up coming home with leftover money in your pocket.
Holiday Travel Tip #2: Cook Some of Your Own Meals (for longer trips)
This tip is for the adventurous holiday travelers who are planning on staying for an extended duration of time (3-4 weeks) abroad. Eating out may be simpler, but going through the process of cooking a homemade meal in a foreign country could be an exciting experience, and save you money!
"Cooking your own meals is sometimes much cheaper than eating out depending on where you travel. When I'm in a new place, I'll try the foods I want to try (i.e. Raclette and fondue in Switzerland), but then for the rest of the meals I find it best to cook." -Kim Nguyen (Study-abroad student in Spain)
Holiday Travel Tip #3: Try Different Modes of Transportation
It may seem convenient to take taxis everywhere, but in many places there may be other convenient, more affordable transportation options. In Korea for example, I found the subway system to be cheap, safe and reliable. I just made sure to allot a little extra time in my day for walking to the subway station and transfers. I had no problems, and I ended up saving a lot of money!
Holiday Travel Tip #4: Get a Credit Card with No Foreign Transaction Fees
"Usually, foreign transaction and ATM fees usually tack on 3% to your purchase, which can really add up, so my top tip would be to definitely get a chip-enabled credit card w/ no foreign transaction fees and a debit card w/ no foreign transaction fees + no ATM fees before you go abroad. This will save your life, and money while abroad. Bonus points if the credit card has good rewards for travel-related purchases!" -Olivia Chui (Study-abroad student in France)
USC Credit Union offers the best credit cards to meet all your traveling needs this holiday season. We offer a Platinum Mastercard and a Platinum Rewards Mastercard that have an intro rate of 0% APR on purchases, no foreign transaction fees, and no annual fees.
For Our Members – Not For Profit
When you became a member of USC Credit Union, you took a big step toward your financial success. As a not-for-profit, our earnings are returned to you in the form of lower loan rates and lower fees. So while banks pay stockholders first, we put you first. With USC Credit Union, your future starts today and we want you to own it!
src: https://www.cuinsight.com/3-tips-saving-money-traveling-abroad.html