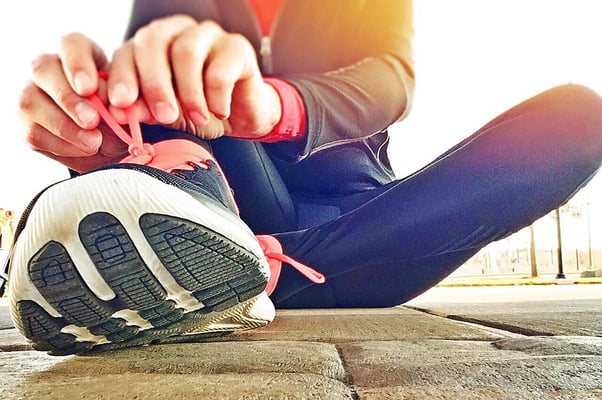 Fall is officially here and what better way to enter the season than to set some new fitness goals?
January is notorious for being fitness month in America. Year after year we witness gym memberships spike because we all know the new year is an excuse for everyone and their dog to set a brand new fitness goal. "This year is going to be THE year that I run that marathon and THE year that I'll start cutting out all the Netflix and chill." Sound familiar? But what happens when February rolls around? And March? The rigorous early morning workouts start to die down, trips to the gym become less frequent, Stranger Things begins airing and before we know it, we're more or less back to our old fitness regimens. But this morning I thought to myself, "It doesn't have to be this way!" We should be able to set fitness goals any time of year. And what better time to have this thought than today, in the beginning of Fall? It isn't the start of a new year, but it is the start of a new season—and the start of my new morning fitness regimen. Care to join me?
For the month of October, I commit to start my mornings off right. I will wake up a bit earlier and do a 15-minute exercise regimen. I know what you're thinking--good luck with that; college students don't wake up early, but that's okay because I have a plan! I knew it would be foolish for me to jump right into it without some sort of game plan for how I'll stay committed, so of course I turned to my friend, Google, and asked, "how to stick to a fitness plan?" Article after article, blog after blog all professed that the one thing committed people have in common is a workout buddy. So that's how I got to writing this blog post—to invite YOU to wake up early and exercise with me!
As a new contributor to the USC Credit Union Blog, I'm so excited to be writing my first four-part series on one of my favorite topics: fitness! In the October "Fall into Fitness" series, I will post fitness tips every week, along with a 15-minute morning workout that we can do together to get fit this Fall.
Now if I had a FAQ section just for this blog post, I feel like everyone would be asking the same question: "You work for the USC Credit Union. Why are you writing about fitness? And what does that have to do with money?" This is a great question! In addition to my fitness tips, my weekly blogs will include one tip to help you get FINANCIALLY fit! While physical fitness is all about shedding the pounds, financial fitness is all about saving you money and getting ready for the future. And while it's not October yet, I thought I'd cheat and get a head start on this fall fitness thing and give you one physical fitness tip and one-and-a-half financial fitness tips right now.
Physical Fitness Tip #1: As soon as you wake up, drink a glass of cold lemon water
I actually started doing this at the beginning of the Summer because I kept watching those oddly- addicting "get ready with me" YouTube videos, and everyone would start the day by drinking lemon water. Turns out, lemon water does in fact have health benefits. For example, lemon water is great for your immune system. Lemons like many fruits have Vitamin C which combats the cold and flu. Lemons also have something called Pectin Fiber which aids in weight loss because it decreases cravings (and could wind up saving you some $$$ on food). Lastly, lemons make you happy! Supposedly the lemon scent can boost your mood and clear your mind. I will say that after just a few months, I can really see and feel these benefits. I've also noticed that drinking lemon water in the mornings makes it easier for my stomach to digest food throughout the day.
Financial Fitness Tip #1: Go to Rave and Save
No, I didn't say go to a rave; I said go to Rave, as in Rave Cinemas in Baldwin Hills. At most movie theaters, you'll easily pay upwards of $15-20 for a movie ticket, but if you go to Rave Cinemas and bring your USC student ID, you will pay as little as $6 for a movie ticket! Rave Cinemas is always my go-to theater in the LA area because it's only a short, 15-minute Uber ride from campus, and the tickets are a steal! So if you're not planning on watching the USC vs. ASU game this weekend, and want to do something fun and affordable, grab a few friends and watch a movie at Rave cinemas. (I hear Queen of Katwe got really good reviews on Rotten Tomatoes.) Just remember to bring your student ID to save on movie tickets!
Financial Fitness Tip #1.5: Subscribe to this Blog!
Like I said earlier, October is fitness month, and I need YOU to hold me accountable to doing my morning workouts! In return, I promise I will try my best to inform or entertain you and keep you up-to-date with all the latest tricks to keep you fit—not only physically, but financially as well! Be my new fit-spiration and subscribe below!
"Fall" into financial success by becoming a member of USC Credit Union! Our offerings can assist you regardless of where you are in your financial journey. Learn more here.