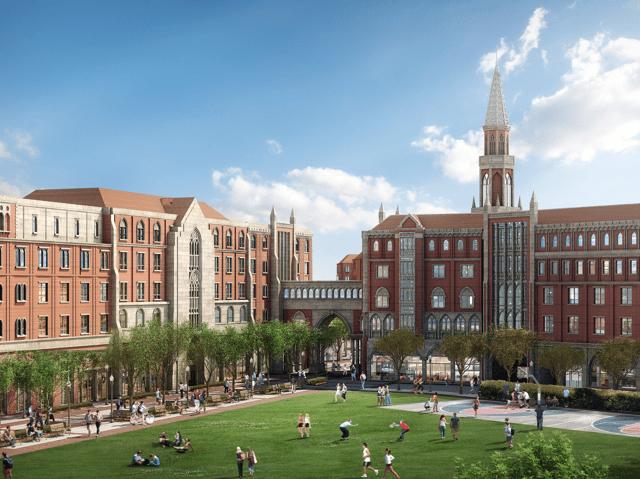 Wow! The upcoming school year is already just around the corner and there is so much to look forward to next fall.
One of the most exciting (and largest) projects to look forward to next semester is watching USC Village start to unfold even more. USC Village will be transformed into a vibrant, pedestrian-oriented and safe environment. It will include up to 350,000 square feet of community-serving retail, new student housing and academic space, and will increase the quality of life for students and the community. This past January, the landmark "spire" was placed atop the Village, marking the halfway point in construction of the $700 million residential-retail project. It is still on track to be finished fall of 2017!
Another new building to look forward to his fall semester is the Glorya Kaufman International Dance Center. Whether you are looking to receive a Bachelor of Fine Arts degree or just take a hip-hop class for fun, this new building is the place to get it done. Jeffrey de Caen, the associate dean of operations for USC Kaufman and the USC Thornton School of Music, had overseen several major construction and renovation projects for music buildings on campus, but the prospect of building a state-of-the-art dance center required him to do more than a bit of homework. Prior to the 2014 groundbreaking for the dance center, de Caen had put in well more than a year of research across the country and in Canada.
This research has resulted in USC creating a "palace for dance," as USC Kaufman Dean Robert Cutietta calls it, for the university's first new school in 40 years established through an endowment. It's a building that has been exhaustively thought out in terms of layout, construction features, electronics, sound isolation and finishes — with special attention to how it will serve the innovative, multidisciplinary dance curriculum. The just over 54,000-square-foot structure, on schedule to be completed early this summer, will welcome classes in August, with a ribbon-cutting ceremony slated for Oct. 5.
Get ready for some exciting new Architecture this fall!
Sources:
http://villagearchive.usc.edu/information/overview/
http://news.usc.edu/99446/how-do-you-create-a-dance-building-from-scratch/