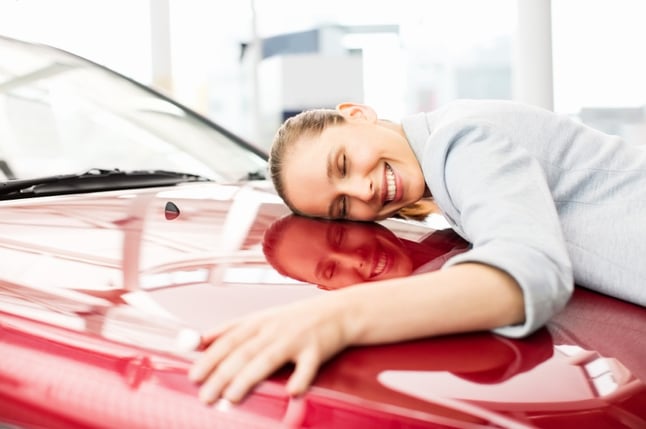 Buying a used car from a private party or a dealer can be a very daunting task. There's nothing more frustrating than buying something that doesn't work well, especially something as expensive as a car. There are A LOT of things to consider when looking to purchase a car. Before you make the big decision, take these tips into consideration!
1. Budget & Financing
This is obviously the first thing to take into consideration when buying a car. You should decide how much you plan on spending and if you want to pay for the car in its entirety or if you want to finance it. If you decide to finance, it's important to keep APR in mind. If you buy a $10,000 car and finance it for 12 months at 16% then you're paying an extra $1600 for the car over a year. Financing through a credit union is usually a great deal. At USC Credit Union we offer rates as low as 1.992% APR! Check it out.
2. Check KBB!
Check the Kelly Blue Book value of the car you're interested in to see if it fits your budget and to avoid overpaying.
3. Dealership vs. Private Party
This is a big one! There are benefits and drawbacks to both. With a dealer, you're less likely to get a problematic car. Cars sold by reputable dealers are usually in good condition and have been maintained well. Dealers often offer warranties on their cars also, so if something goes wrong with your car before a certain number of miles are driven or a specified period of time then the dealer will fix. However, getting a car from a dealer is usually significantly more expensive than buying the exact same car from a private seller.
When you buy from a private seller, you're more likely to be paying closer to the KBB price of a car. The drawback of buying from a private party is that the owners often do not maintain the cars as well as dealerships do. Also, there's always the risk of the car being generally problematic and someone trying to sell their problem to you. So take your time and do your research to make sure someone isn't trying to sell you a lemon.
4. Why Titles Are Important
A mistake that many first time car buyers make is exchanging money without receiving a title in hand. There are so many issues you could have if you give the seller money and do not immediately get the title. The seller could be a scammer, the title could be in someone else's name (yes this happens often), or it could show that the car is salvaged when the seller claimed there was no accident history for the car. Save yourself the trouble and the long day at the DMV and make sure the seller has a legitimate title.
5. Salvaged Titles
Speaking of salvaged titles, the meaning of a "salvaged" car has different meanings in different states. Before you go car shopping, see what defines a car as salvaged in the state that you're buying in. In some states like Illinois, salvaged means a car is no longer drivable and cannot be registered or insured. But in California, "salvaged" means that there may have been repairs that cost more than what insurance was willing to pay for it.
Also keep in mind that if you want to finance a car through a credit union, most credit unions will not finance a car with a salvaged title.
If you're interested in a car that has a salvaged title then find out what being "salvaged" means in your state by visiting DMV.org
6. Ask The Seller These Questions!
Don't be afraid to grill the seller with these important questions. If the seller cannot answer then it is a red flag
Who was the previous owner? (You want a car with very few previous owners. It's better to get a car that was someone's baby for three years rather than to buy from someone who only had the car for a few months and doesn't know anything about the car's history)

Do you have the title in hand?

Can I see the maintenance history?

Can I take this to my mechanic? (You can have great, certified mechanics to come to wherever you are to do a pre purchase inspection. Check out YourMechanic.com)
Can I see the Carfax? (Carfax will show you the vehicles history including accidents and maintenance. Make sure you have the right VIN number for the car though!)
The most important question to ask is "why are you selling it?" If the car really is as amazing as the seller claims then why is the seller parting with it? It's a good sign if the seller gives what seems to be a genuine, honest answer. If something about the seller or their response seems shady, don't be afraid to walk away.
7. Be Patient!
Buying a car is a big decision, make sure it feels right. Even if you find the car of your dreams on Craigslist but it's slightly out of your price range, try waiting it out! In my experience looking for used cars, I've seen sellers lower their prices after a few weeks if the car hasn't sold yet.
Follow these steps and you'll find the car that is perfect for you. For more information on car buying, check out our FREE eBook linked here.