10 Great Cars Under $25K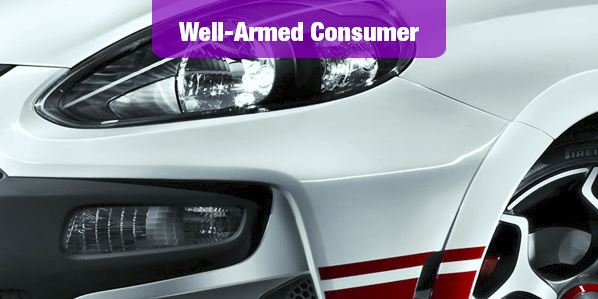 Kelley Blue Book has compiled a list of the 10 coolest cars priced at under $25,000, with something for just about every taste and age bracket.
#1 The company's #1 pick is the Scion FR-S. This sporty model features rear-wheel-drive, 200 h.p. and an available 6-speed manual transmission. It's relatively svelte for a new car, at around 2,800 lbs., and Car and Driver reckons that it's good for 0-60 sprints in around 6 seconds. Very cool.
#2 Next on the list is the Ford Fiesta ST, which is the Dearborn company's entry in the "hot hatch" segment of the market. A list-price of $21,400 gets you a 197 horsepower Ecoboost engine and a 6-speed, wrapped in a sporty-looking body. Road & Track said they ran this little beast against some much pricier competition – including a Corvette Stingray and a Ferrari – and that the little Ford "..never got left behind." That's saying something.
#3 For a complete change of pace, KBB offers the Jeep Wrangler as its #3 pick. Very little needs to be said about this titan of the offroad set. It's the standard by which other 4-wheelers are judged, and the new ones are certainly true to the Jeep heritage – even if they are a lot more civilized and drivable than their ancient, WWII-era forebears.
#4 Number 4 gets us back to the hot rod econobox category, with the original hot hatch: The Volkswagen GTI. The 2014 model sticker price is a bit more than $25k, but Edmunds sees a street price of around $24,578. This year's model features 200 h.p. and a 6-speed (sound familiar?), and still returns 21/31 m.p.g. economy.
#5 At #5, the Chevy Camaro offers a lot of car for around $25, albeit with base-model appointments. You don't get a fire-breathing V-8 for this kind of money. However, the base (LS) Camaro offers a 323 h.p 6-cylinder and 6-speed manual package that still delivers 17/28 M.P.G. – all for a street price of around $23,800. Not too shabby.
#6 Next, it's off to merry 'ole England, and the Mini Cooper S, (well, Germany, since these cars are made by BMW). The S-model gets you a turbocharged, 189 h.p engine – which is a big upgrade from the standard offering. You'll need it, too, since the Mini has gotten bigger – and a bit heavier – over its 10+-year run. But the new models handle better than the old ones, and offer better crash protection as well.
#7 Ranking at #7 is the 2014 Ford Mustang – the original Pony Car. As is the case with its main competitor, the Chevy Camaro, a budget of $25k keeps you in the base-model end of the range. A new Mustang is due next year, so you can expect to see some sweet deals on the 2014s – if you can wait until the later part of the year. However, this 5th Generation model is no slouch, and the 2014 model is the most improved incarnation of it.
#8 Just when we were wondering why there weren't more Japanese cars on this list, along comes the Honda Civic Si, at #8. This is another "hot hatch" model that has been around for years, but with continual improvements. The 2014 model get a major refresh, with new styling and a small bump in power, to 205 h.p.
#9 If you want something different, with Italian flair, you'll be glad you read down to the #9 pick: The Fiat 500 Abarth. Not to be confused with its cute, easy-to-park base model sibling, the Abarth comes complete with a turbocharged, 170 h.p engine and a 5-speed manual. It offers 0-60 times in under 7 seconds, and a 129 m.p.h top speed.
Last, but not least, KBB offers us the Mazda MX-5 Miata. This is the only convertible on the list. However, it's another venerable model that's due for more than a facelift. There are plans for a Fiat/Mazda collaboration on an all-new Miata, but the current one has been around since 2008. It's still a fine, little sports car, though, and a great value for the wind-in-the-hair set.
Well, there you have it. While everyone's definition of "cool" is a bit different, we think that KBB's picks cover a wide range of tastes and driving styles, (though the list is a bit heavy on hot little car picks). It's good to know that so much performance and quality is still available for less than $25k.
Copyright Today's Credit Unions