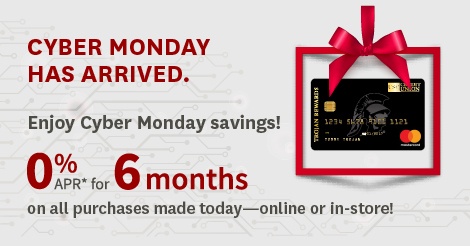 Black Friday sometimes seems over-rated. Why leave the comfort of your own home when you can do all your shopping online during Cyber Monday? Here are some tips to make the most of your spree. Happy shopping!

Prepare Your Checkout Codes in Advance
Imagine this: you're finally ready to checkout and the clock is ticking down. You forgot to check for a promo code and find yourself frantically googling one. By the time you are able to finish checking out, the product sells out! Don't let this be you. Save yourself from this frustration by doing a little bit of preparation beforehand.
Compare Prices

This is easy to do for Cyber Monday since there are many price comparison extensions for your browser that will automatically inform you of cheaper prices from different retailers. Sometimes there might be a hidden deal you missed. (Don't forget to check the retailer's reliability though)!
Check Delivery Information
Make sure you know the cost of shipping and the time your order will be delivered. Sometimes the item may seem like a bargain but then have outrageous shipping prices or won't ship in time for the holidays.
Stay Safe
Watch out for phishing scams. If an offer seems too good to be true, it probably is. Also, make sure that you are always processing your orders on both a secure Wi-Fi network and site. You wouldn't want important credit card information leaked just for discounted jeans.
Shop with a Credit Card
It's safer to shop with a credit card because you can dispute charges that are not yours. This can prevent fraudulent purchases whereas with debit cards and prepaid gift cards, you lose that amount of money.
If you don't have a credit card (or are paying a high-rate on store cards), consider applying for a USC Credit Union Platinum Rewards MasterCard! For every $1 spent you earn a point towards an exciting rewards selection. Our card comes with 0% APR* for your first 15 billing cycles for purchases & balance transfers made within 6 months of opening your account. Learn more here!
*APR (Annual Percentage Rate) is effective August 1, 2017 and is subject to change. Your regular variable rate is determined by creditworthiness and payment history, and may vary. The minimum monthly interest charge is $0.50. The 0.00% APR for purchases and balance transfers made during the qualifying transaction period within the first 6 months of account opening. All purchases, net of returns, qualify for the promotional APR. The promotional rate will remain in effect until the end of the 15th billing cycle billing cycle after account opening, thereafter, the standard rate of 9.15% to 16.15% for purchases and balance transfer applies. Except for existing USC Credit Union loans, all balance transfers qualify for the promotional APR. There is a 2% Balance Transfer Fee of the total amount transferred per transaction or $10, whichever is greater. Membership eligibility requirements and membership fees may apply; please call (877-670-5860) or visit www.USCCreditUnion.org to confirm eligibility. This promotional rate is available for a limited time, and rates and terms are subject to change without notice. Click here for full disclosure.