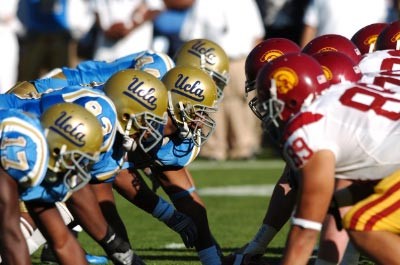 It is now that time of year again where Tommy Trojan is wrapped up and the UCLA Bruin begins hibernation. In celebration of Conquest 2017, here are some facts about the USC-UCLA rivalry.
1. USC Stole the "Victory Bell"
In 1941, USC stole a 295-pound bell from UCLA. TO keep it protected, the y moved it around the LA area. This started a war between the schools until the USC president threatened to cancel the rivalry. They signed an agreement in 1942 stating that the bell would be renamed the "Victory Bell" and be used as a trophy.


2. The Mascots are Protected
As you may have seen around campus, the statues are completely duct taped or boxed up. This is to prevent any damage. UCLA does this as well to protect its beloved bear. In 2009, USC covered the Bruin Bear in red and yellow paint costing $20,000 in restoration fees. The Bruins cut Tommy's sword and placed it in an uncomfortable spot for Tommy Trojan.
3. Spirit Groups Protect the Mascots
The Trojan Knights are tasked with protecting Tommy Trojan and undergo 24 hour surveillance. Bruin the Bear is guarded by the Bruin Bear Security Force similarly.
4. UCLA Still Holds the Record for the Longest Winning Streak
UCLA has 8 consecutive wins (1991-1998) against USC while USC's longest streak is 7 against UCLA.
5. Neither Teams are Visitors
In their battle on who owns L.A, USC and UCLA both wear their home jerseys when competing against each other.
It's time to show those Bruins who really run L.A. in this year's football game. You can show your Trojan Pride by becoming a member of USC Credit Union. There's exclusive perks for Trojans! Learn more here.