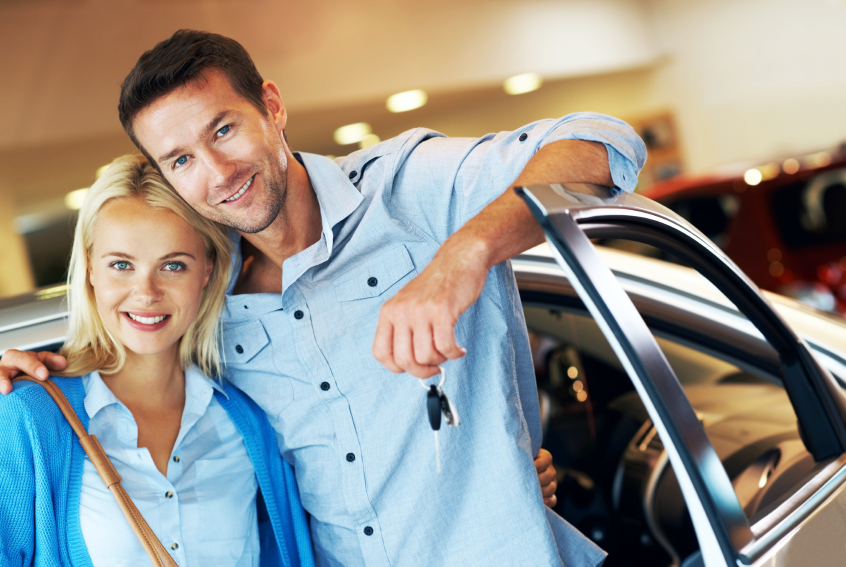 You know exactly what car you want. Maybe it's the sporty little red number you saw cruising down the highway last week. Or a huge SUV that costs as much in gas each month as your rent. Either way, unless you can pay cash up-front, you'll need an auto loan that will allow you to make monthly payments. Choosing the right package to fund your new wheels is the key. You can't slow down that fast-talking car salesmen, but you can make sure you know what he's talking about.
1. Check your Credit Score
Get started by checking your credit score, a three-digit number (starting around 300 and going up to 900) used by your lender to determine how risky it is to lend you money. Your credit score influences your interest rate, so a higher score means a better loan package. You can get a free annual credit report (federally guaranteed) at annualcreditreport.com. By checking your credit report before applying for a loan you can fix errors and avoid surprises. It also protects you from dealers who might claim your credit score is lower than it actually is to keep you from getting a better deal.
You want to get a car loan, but you're not sure where to go. Lenders include financial institutions like credit unions, as well as online brokers and dealerships. Always compare lenders to see where you can find the best deal.
Check with the financial institutions you already use. Credit unions are not-for-profit and consistently offer low rates on auto loans. Many also offer incentives for current members.

Dealerships and online lenders both offer auto financing packages. It's important to read everything carefully, especially online, as some deals are often too good to be true.



It is a good idea to go to your credit union and see if you can get pre-approved for a car loan before you set foot in a dealership. Pre-approval will accomplish three important things:
One: It will help you determine how much car you can buy and how much your monthly payment could be. Just because you're pre-approved for $50,000, doesn't mean you can afford the high monthly payment for a BMW. If the payment is more than you want to spend or can afford, work backwards to find the loan amount with your ideal monthly payment.
Two: Your pre-approval makes the buying process quicker and easier. With some additional information about the exact car you're buying, the lender can get the check to the dealership.
Three: It provides a comparison for the loans the car dealership will offer you.
All of those car dealership commercials for promotions and specials may or may not be a good idea for you. Here's what you should know:
Don't assume you'll qualify for promotional rates. They can have a lot of restrictions (only certain models, very few additional bells and whistles, only cars already on the lot) and may be reserved for those with nearly perfect credit.

You might be eligible for dealership promotions even if you don't finance your car with them. But some dealerships only allow one special discount, so choose the one that saves the most money!
Here are a few car dealership promotions you should know about:
Recent graduate programs: Some lenders, most often dealerships, will offer recent graduate discount programs.
0% financing: Zero percent financing removes the interest from the car loan. Read the fine print to make sure you aren't getting a "bait and switch" deal. That is, when your zero percent rate turns out to actually be an "introductory rate," which can jump much higher in a few months.
Rebates: A cash back rebate is generally another way of saying that the dealership will reduce the M.S.R.P (Manufacturer Suggested Retail Price) of the vehicle. Use the rate vs. rebate calculator provided by bankrate.com to help calculate which option will save you the most.
Amount Financed: The amount of money you want to borrow, which includes the cost of the car you want, plus any other fees or expenses.
Down payment: The amount you pay on the car up-front. Try to pay at least 10 percent down; this isn't a requirement for every loan, but it can lower your payments.
APR: The Annual Percentage Rate you'll be paying for the loan. The better your credit score, the lower your rate.
Loan term: How long you're given to pay back the loan and interest, given in months. Choosing a shorter term can lower your interest rate so you pay less in the end, but it will mean higher payments each month.

Subject to refinancing: Watch out for "subject to refinancing" clauses in your contract. Some dealerships promise you a low interest rate and hike it up in a few days.
Fees: A dealer might stick you with a few fees you can wiggle out of. A "dealer prep" charge is supposed to cover preparing the car when it gets in from the manufacturer, but the factory usually pays them for this. There may also be an "advertising/marketing" fee included, which can be negotiable. Advertising - doesn't that seem like the cost of doing business to you?
Shop around: Consider shopping around elsewhere for extras like rust-proofing, VIN-etching, security systems, and other gadgets.
Expect to pay: Expect to pay some fees and taxes. You might see an "acquisition" or "document" fee which covers the cost of obtaining credit reports, insurance information, and coffee for paper-pushers (just kidding). The dealership might also include licensing fees, a fee for a smog certificate, and any taxes that apply in your state.
Download a FREE copy of our Auto Buyer's Guide using the link below so you don't get taken for a ride!
Copyright BrassMedia. Sources: howstuffworks.com; advocar.com; bankrate.com; edmunds.com; carbuyingtips.com; bankrate.com; chicago.bbb.org; nada.org; Ed Henry "Be wary when closing the deal – Statistical Data Included". Kiplinger's New Cars & Trucks. Annual 1999. FindArticles.com. 01 Dec. 2006.