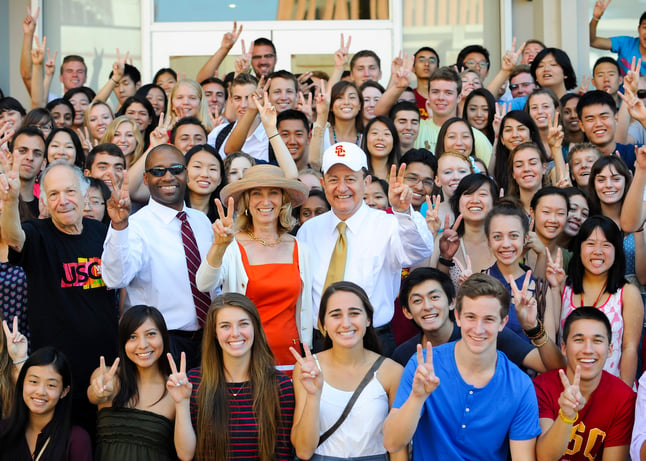 Welcome to the Trojan Family! You've been welcomed into a worldwide network of Trojans and will experience levels of school pride that only exist at USC. Here are some tips that will help make your transition into SC smooth and make the most out of your freshman year.
1. Look at all of the housing options and pick what fits you best

Where you live is a big factor that will affect your freshman experience. Each dorm has its own personality. Dorms like New/North have a strong party culture and many residents rush sororities and fraternities during their first semester. Contrarily, dorms like Webb and Fluor are more laid back and quiet.


2. Also keep in mind the dining halls that are close to each dorm

You're most likely to go the dining hall that is right next to your dorm and each dining hall is distinctly different. Café 84 focuses on healthy options and includes gluten free and vegan choices. EVK focuses on American food and usually has an open grill in the back for hotdogs and burgers. Parkside gives the closest thing to a restaurant experience and the menu often includes pastas and specialty foreign cuisine.


3. Reach out to your roommate before move in

Their contact info is in the online housing portal. You all will be spending a lot of time together come fall so you might as well get a head start in building that friendship


4. If your parents have their own health insurance for you, don't forget to opt out of the USC insurance

You're automatically signed up for university sponsored insurance until you provide proof of your own. If you forget to opt out before school starts, you'll remain enrolled and you'll be charged for it.


5. Register for some major classes first semester.

It's better to find out that you don't like your major sooner than later. If you take some of your major classes first semester, it'll help you realize if it is something you want to stick with.


6. Take advantage of campus fitness opportunities

The freshman 15 is real! For those of you who were athletes in high school, look into joining intramural! For those of you who liked to go to the gym, take advantage of the Lyon Center, which is free for students.


7. Don't feel pressured into anything
It's ok if you don't want to go Greek or if football isn't your thing. You can make your own unique experience at USC. Don't feel like you have to follow the path that you see other people do. There's a club or organization for almost everything at SC, you'll find your thing!
As you navigate college life, make USC Credit Union part of your four years! It's never too early to get into good financial habits. Check out our student centered offerings here.