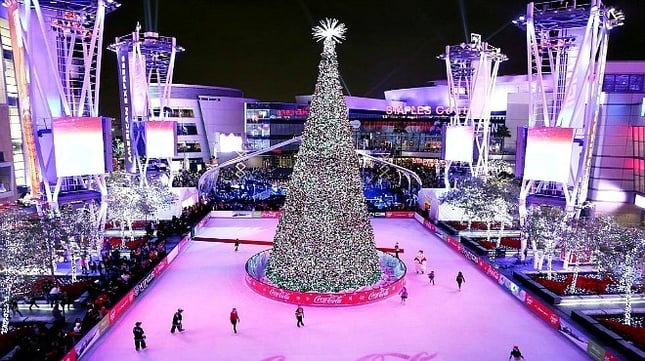 Why would you limit your holiday fun to one day when you can spread cheer across the season?! Check out these local events to have a happier holiday.
USC Figure Skating's Holiday Show and Skate
Time: December 2nd 3:30-4:30pm & 5-7pm
Cost: FREE
Skate on over to LA live to support the USC figure skaters in their first holiday show at 3:30-4:30pm! If you can't make it to the show, join them on the ice from 5-7pm.
Time: December 2nd – December 3rd starting at 11am
Cost: $15 normal, $35 VIPo you can have a safe, fun holiday season.
Find a unique gift by browsing through handmade brands at the California Market Center. Also, experience artists showcasing their work and locally-made food.
LA Harbor Holiday Afloat Parade
Time: December 2nd 6pm
Drift down to the East Basin Channel of the Port of Los Angeles and join thousands of spectators watching ships decorated with the theme of "Peace around the World".
Winter Gala: Brightest and Best
Time: December 9th 7:30pm
Cost: $25-100
Support the Thornton holiday fund by donating $25-100 and receive a complimentary seat to the concert. Enjoy a night of beauty and music featuring 250 singers and instrumentalists.
Time: December 22nd
Cost: Free
Don't miss LA Live's Christmas music and choreographed dances. Jam out to both traditional Chrsitmas music and what brings it to life today. Pick up your tickets prior to the show. See website for more details.
Reindeer Romp
Time: 10am-4pm until January 7th, 2018
Cost: $21
Witness the magic of real reindeer and maybe even catch a glimpse of Santa at the LA zoo. Experience the animals partake in the holiday festivities as they also get special presents to unwrap.
Museum of Failure
Time: December 1st –February 4th, 2018
Cost: $15
For a good laugh, check out the Museum of Failure and see some of the worst ideas brought to life. It will be a pop-up museum in the Arts District's A+D Museum and will feature 100 disaster items including Trump's board game and an anonymous "failure confessional" that you can even contribute to!