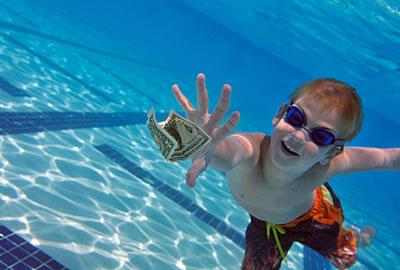 Beach days, Bomb Pops, barbecues — what's not to love about summer? You may relish these warm-weather indulgences, but a few sneaky spending traps can leave your wallet feeling lighter than your favorite chilled spritzer.
Cutting these five common budget-zappers can save you serious cash to put toward your summer fun instead. It's so easy, you have no reason not to save!
What Not to Buy During Summer
1. Bottled Water
Americans spend $11.8 billion a year on bottled water — it all adds up! — but bottled water is almost 2,000 times more expensive than tap. Find a reusable water bottle to tote around in your backpack, gym bag or purse so you're never out of reach from free hydration on-the-go.
2. Your Gym Membership
Take your workouts outside! Freezing your gym membership until the fall could save you hundreds of dollars, depending on how much you spend at the gym. Besides, we can all benefit from a sweat-sesh switch-up (rooftop yoga, anyone?) to keep us energized and on top of our fitness.
3. Super-Expensive Sunscreens
You don't need to pay top dollar for good sun protection. Some of this year's highest-rated sunscreens from Consumer Reports cost no more than an ice cream cone or two.
4. Travel-Size Toiletries
Those adorable mini-shampoo bottles are costing you big bucks — up to eight times more than the full-size version. Pack your favorite products in small refillable bottles for a fraction of the price.
5. A New iPhone
Wait a few months if you're thinking of buying a new iPhone. Apple typically releases new models in September and offers currently available phones at deep discount.
Traveling soon? Let us know before you go so we can help protect your account. Have a great summer!
Source: www.learnvest.com