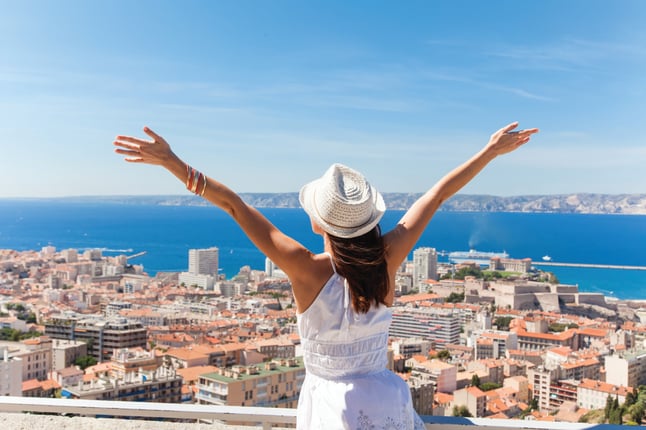 1. The Great American Road Trip
A record number of Americans are expected to hit the road this summer, and it's not only because of traditional factors, such as an improved economy, pent up demand, and low gas prices (Today, prices are 46 cents/gallon cheaper they were last year at this time), but it's also due to a unique set of circumstances, says Chris Elliott, author of How to Be The World's Smartest Traveler. "Heightened terrorism fears (especially when it comes to European travel), concerns/unknowns about the Zika virus, and extra long security lines that we haven't seen since 9/11—of over 90 minutes at some of the nation's airports due to TSA cutbacks—has many thinking it's not only easier, safer and cheaper to stay closer to home and take the Great American Road Trip, but the timing is right."
2. Deceptively Low Airfares
You've likely seen the headlines: Thanks to a drop in oil prices and increased competition, summer airfares will be cheaper than they've been since 2009! According to airfare prediction app Hopper, average fares during the summer months will range from a peak of $240 in June, and then drop to $211 by August. Excited? Don't be, says Elliott. "It's deceptive because when you factor in the airline's ancillary fees (for things like checked luggage and a decent seat), on balance, you're probably paying more for airfares than you ever have."
3. National Parks
In honor of the National Park Service turning 100 on August 25 this year, centennial events and commemorations will be held at parks throughout the country. "The parks are going to be jammed," says Pauline Frommer, editorial director at Frommer's. "They're getting record numbers of advance reservations, so make reservations now if that is in your travel plans, or there may not be room." Can't lock your plans in just yet? You can either wing it (Frommer says that most national parks reserve a quarter of its campground sites for same day travelers) or consider alternatives, says McGinnis. "There are a vast number of underrated (and unknown) state parks you could try instead."
4. Who Needs Europe? Think: Canada!
"Canada is going to be a big winner this summer," says John DiScala. "It's safe, it's clean, it's family friendly, you rarely hear anything abut gun violence or terrorism, and with the value of the Canadian dollar as weak as it is, it's cheap—everything, from hotels to restaurants to shopping and other activities, is 25%-30% off." Another key selling point: "It's only a day's drive for a third of the population," says McGinnis.
5. Travel Insurance
As concerns continue to grow over both terrorism and the Zika virus spreading, many travelers—especially those with expensive itineraries—are buying travel insurance. And even though a policy will cost you 4% to 8% of your total trip value (and up to 12% if you the flexibility of cancelling "for any reason"), it buys you peace of mind. Compare rates on sites like insuremytrip.com or travelguard.com.
No matter where your summer takes you, a USC Credit Union Platinum Rewards MasterCard will be a great travel companion! It gives you points for every dollar spent and there are no foreign transaction fees. Learn more here.