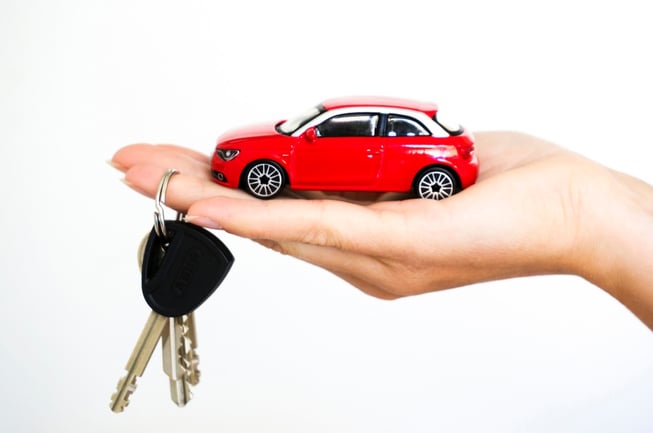 If you're thinking about purchasing a vehicle soon, you might find that you have a lot more questions than answers. Do I need a great credit score? Should I buy an old or used car? Can I even afford to purchase a car? USC Credit Union offers a FREE eBook called Wheeling & Dealing: What you Should Know Before Buying a Car that addresses many of the questions you might have.
As a soon-to-be college graduate thinking about making my first car purchase, I found this eBook to be extremely helpful! Here is a summary of my main takeaways.
1. Buying Used vs. New
There are pros and cons to both, but here are some of the things that stuck out to me. Brand new cars are awesome because you can customize them exactly as you please--choose the exact model, color, features, etc. There is also reduced maintenance expense for new cars because they will be in tip-top condition, where as used cars might require more maintenance sooner. Unfortunately, a 10% down payment is often required for new car purchases, which may be difficult to afford. Used cars are typically much more affordable and there are more special financing options for used car loans. Check out the eBook for more information about used vs. new as well as car leasing benefits.
2. Be Mindful of Other Costs
Depreciation, parking, gas, insurance...it's easy to forget about all these costs that come with being a car owner. But costs are costs, and must be taken in to account before purchasing. Depreciation is a term that refers to the declining value of your car over time as you drive it. Make sure to consider how often and how far you'll be driving on a day-to-day basis, so that you can at least predict how quickly you expect your car to depreciate. If you live in a busy city like I do, you also might have to pay monthly parking fees. Be aware of the price of gas and if your car will have good or bad gas mileage. Finally, don't forget about insurance! Various factors affect the cost of car insurance, such as where you live, how much you drive, how old you are, your driving record, etc.
3. Credit Scores are Important
This could either be great news or not-so-great news, but credit scores are in fact one of your greatest assets in your car-shopping journey. Your credit score will determine various things such as interest rates, monthly payments, and the length of your loan term. It also affects other costs, such as monthly insurance costs.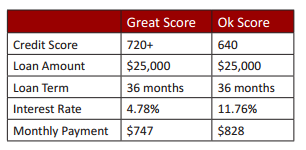 As you can tell from the chart above, a great score can get you an interest rate of about 7% less which means you pay about $81 less than if you have an ok score. This totals to almost $1000 in yearly payments!
If you want to read more on credit card scores, check out this blog post.
4. Find a Low-Interest Loan
At USC Credit Union, we pride ourselves in being able to pass along profits to our members in the form of extremely low rates. We offer the best auto loan with flexible terms and as low as 1.99% APR. In addition, if you apply for a car loan before December 21st, 2016, you can earn up to $100 cash back! Check out this cash back deal and learn more about our great auto loan options!