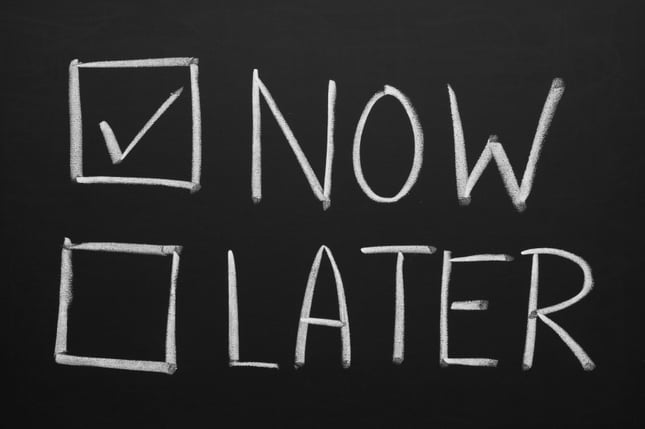 We are all eager to accomplish our New Year's Resolutions (including that 4.0 GPA) but procrastination sometimes gets the best of us… here are 4 steps to get you motivated and beat procrastination!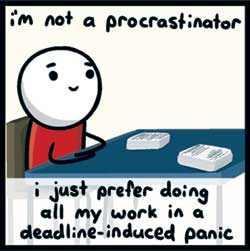 1. Get Motivated!
The pressure of an incoming deadline should not be your main motivator. I know it is difficult to start assignments early but trust me, you'll thank me later. Blast your favorite music to study to and just get cranking. Once you finish your work, you'll have so much more time to do things you actually want to do! Whether it's an essay, project, or even just a math assignment, you'll feel so much better once you get it out of the way.
2. Approaching Success or Avoiding Failure?
Just like the classic joke, "Due tomorrow? Do tomorrow!" we sometimes only work on what's immediately due. This, however, is a formula for failure. Some projects require more time to think through and complete. If you begin working earlier, your everyday workload becomes more manageable. Instead of writing a 10 page essay in one night, try writing one argument at a time. Starting earlier also gives you time to ask for help or get concepts clarified from your TAs and teachers and to check you work.
3. Get Enough Sleep
Rather than pulling an all-nighter, plan accordingly your work/study time. You can't be your best productive self when you're sluggish and groggy. The lack of sleep is typically from procrastinating all day and doing your homework late at night. The more tired you are, however, the less you will be able to resist procrastination! To have enough energy to be motivated and productive, try to get 8 hours of sleep each night.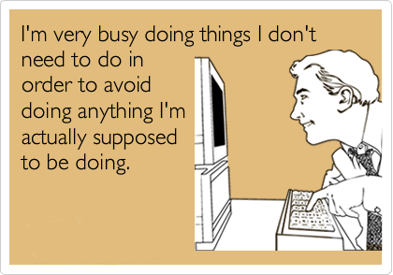 4. Create a Work-Oriented Environment
Productive procrastination is still procrastination similar to how beautiful garbage is still garbage. Adding an adjective to a noun does not magically transform it into something different. If you know you will be distracted in your room, don't study there! Find or make a space where all temptations are gone and only you and your work remain. To prevent endless hours of refreshing Facebook, put your phone away and turn off your notifications. USC libraries are also a great resource to get some needed distraction- free study time.
Comment below your favorite way to stay focused!