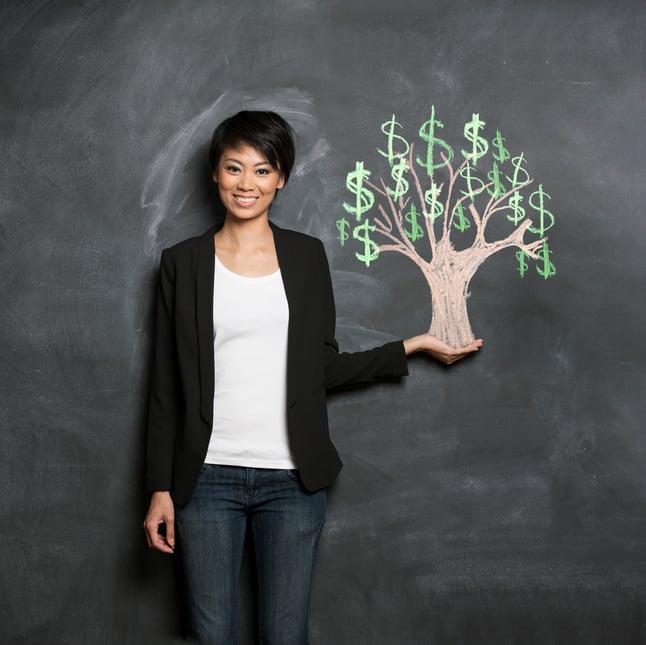 The shift from college to the working world has always been a blur of living-on-your-own excitement and what-do-I-do-now anxiety. That's truer than ever today, with 69% of 2019 of grads owing for their education (the average college debt is about $29,900). So while you've set yourself up to make a decent salary (you hope), you've never faced this many expenses, and you're probably starting out in the hole.
Scary? A little. But you really can learn how to handle yourself on the road to smart money management. This guide of financial advice for college graduates features questions submitted to MONEY from recent and soon-to-be graduates to help you out.
Tackle Student Loan Debt
Answer: Let's prioritize: Eat first, then pay rent, then worry about the loans. Financial planners say not to spend more than 15% of your salary (before taxes are taken out) paying off your loans, but plenty of people can't even manage that. In fact, the federal government recently expanded its student loan repayment options so that anyone can limit his or her monthly bill to 10% of income after paying for essential living expenses. To qualify for lower payments, you'll need proof of your income, like a pay stub or tax return. For more information, go to StudentAid.ed.gov.
On the other hand, you may get ahold of extra cash from time to time, particularly at raise or year-end bonus season. That's a good time to pay down some extra principal, which will cut your overall interest costs and trim the length of your loan, says Myles Newborn III, a financial planner in Stony Point, N.Y. Pay off private loans first; they tend to have higher interest rates. And tell the company that sends your monthly bill to apply extra payments to the loan with the highest interest rate. Otherwise the money will be split equally among all loans.
Tip: Use some of your annual tax refund to pay extra on your loans, and don't forget to deduct your student loan interest (up to $2,500 a year) from your taxes.
Tool: You can estimate your monthly payments, calculate total interest paid, and compare various government repayment options on the Department of Education's StudentLoans.gov website.
*Also don't forget you can refinance your student loans with the USC Credit Union and pay a significantly lower interest rate.
Save for a Major Purchase
Question: I'd need to drive to my dream job, but I can't afford a car. How can I save up enough to buy one? —David O'Brien, class of 2016, St. Leo, Fla.
Answer: This one will require some math—specifically, keeping a budget. Start by jotting down all your essential living expenses: rent, utilities, transportation, food. They should eat up only half your take-home pay. Loan payments should be about 15%. That will leave roughly a third of your salary (after taxes are taken out) for savings and the occasional fun run. The best way to stay disciplined is to squirrel away your cash before you can even touch it.
Tip: Bump up your savings by earning extra money through flexible side gigs. Search for odd jobs through Taskrabbit, Gigwalker, or Airtasker. Don't have time for a second job? Get a roommate to cut your expenses.
Tool: Use apps such as Mint (free) to create a budget. Follow your spending over a month or two. Then look for areas to cut, such as dining out.
Save for Your First House
Question: How can I balance being a renter with simultaneously saving for a down payment on a house? —Tom McMorrow, class of 2017, Morristown, N.J.
Answer: Start by making sure you're not busting your budget by spending too much on rent. Rent and associated bills (like utilities) shouldn't take up more than a third of your income before taxes are taken out. You should also prioritize paying off any credit cards and having some emergency savings set aside before putting away money for a house.
Once you've done that, redirect the amount you were spending toward those goals to your new goal, a house fund. If you get a raise or a bonus, sock away that cash for your home, too.
It may also help to open a separate savings or conservative mutual fund account, one that's primarily invested in bonds, since saving for a home is a relatively short-term goal, says Scott Moffitt, president of Summit Financial Group in Loveland, Ohio. (See the next question for more on mutual funds.) Aim to save at least 20% of the cost of the house before you buy.
Tip: Planning for a house is great, but don't rush to buy. To make up for the closing and legal costs of buying a home, you'll want to be sure you're going to stay put for at least five years. When you do buy, Moffitt recommends budgeting an extra 5% of the purchase price for annual upkeep and maintenance—expenses that longtime renters may overlook.
Tool: If you're open to relocating, focus your job hunt on parts of the country with affordable housing as well as quality jobs. A good place to start: the American Institute for Economic Research's Employment Destinations Index, which ranks cities based on wages, employment opportunities, and living costs.
Source: Time.com/Money