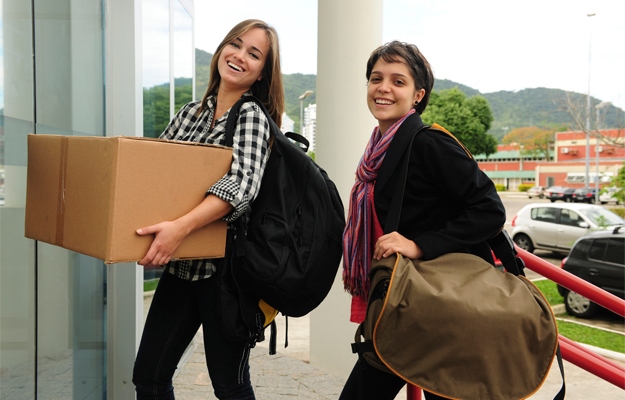 Ever hear the phrase "starving student?" Well, it didn't come from nowhere (and certainly not a fat-cat). College students are notoriously broke, but it doesn't have to be that way. These 25 tips will put some more money in your pocket.
1. Make a Budget, Check It Twice
This is number one on our list for a reason. It's easy to let money fritter away. Thou Shalt Not Fritter. A nightclub cover charge here, a dinner out with friends there, a book you didn't know you had to buy for class thrown in the mix and suddenly all the money you have for the month vanishes in a cloud of shame.
Getting a basic idea of how much you're spending each month and where you can cut back is one of the most fundamental financial lessons you'll learn while in college. This worksheet will help you brainstorm your expenses while Mint.com can track your spending.
2. Rule The School
Aside from tuition, room and board are going to be your next biggest expense. At some schools, room and board costs even more than tuition. Hey, they've got to pay for those ungodly expensive dorms somehow.
Students who work as Resident Advisors frequently get free or significantly reduced room and board in exchange for their work. Considering that the average full-time student attending an in-state public school pays $8,535 per year in room and board according to The College Board, working as an RA can be one of the most lucrative gigs on campus.
3. Recycle
It happens every year—unwitting freshmen buy hundreds of dollars worth of text books then virtually cry at the end of the semester when they're worthless. Watch the faces of students in line at the book store. The ones who look devastated are those who haven't figured out that textbooks are expensive as heck and get sold back for pennies on the dollar.
The College Board reports that the average student pays $1,137 for books and supplies every year, but you can check the same books out of your library for free. If the campus library isn't an option, sites like eCampus, Chegg, and CollegeBook Renter will rent you books for a semester while sharing with a friend can cut the cost of buying books in half.
4. Shack Up
Three's a crowd right? Come and knock on our door. It's also a cheaper living situation. Students who live with more roommates in dorms equipped with fewer amenities typically pay less than those who live alone in posh campus pads. It's not uncommon for the cheapest dorms on a campus to cost 20-30 percent less than the priciest.
5. Cook It Up
College is all about learning about self-discovery, whether it's in a mind-blowing anthropology class, being away from your parents for the first time or realizing that hey, you actually don't eat the same thing as the linebacker who lives down the hall. (And scholarship money pays for his eats anyway.)
Schools accommodate by offering several meal plan options, which can vary by up to $1,000 per year in price. While many schools require those living on-campus to purchase a meal plan, students can typically choose whether they want a large or small option. Prepping some of your meals at home can save a bundle both during and after college. And by the way, been to WalMart lately?
6. Shop Around
Yes, it's undeniably cooler to be living with your friends in a pad far removed from resident advisors' watchful eyes, but living off-campus can cost anywhere from 10 to 40 percent more than the dorm life. In addition to forking over cash for utilities, students who live off-campus also pay for phone, internet connections, commuter parking passes, furniture, a security deposit and summer months when they may or may not live in their apartments. Think carefully before signing a lease.
7. Free Yourself
Those tens of thousands of dollars that you fork over every year—they pay for much more than just your classes. Campuses are chock full of "free" amenities that come with your tuition including on-campus entertainment, movie rentals from the library, gym membership, intramural sports activities, dorm dinners, guest lecture series and student clubs. Take advantage of these. The College Board reports that the average on-campus student spends $1,989 per year on "personal expenses," much of which is entertainment they could have gotten for free from their school.
8. Rent, Rent, Rent
That loft and mini-fridge you're eyeing for your dorm? You're probably not going to use them after college. Some schools have low-cost rental program for amenities like vacuums and hot pots. If that's not an option at your school, don't sweat it. Companies like Loft Concepts and Bedloft will rent and deliver.
9. Reciprocate
First reciprocate. Then do it again. Academic reciprocation agreements are the ugly step-sibling of scholarships and grants. Under-publicized and virtually unknown, agreements like the Western Undergraduate Exchange, the Midwest Higher Education Compact and the Academic Common Market maintain relationships with bordering nearby states that basically allow out-of-state students in partner states to attend college without paying the full out-of-state fees. That means that if you attend a Virginia public college and want to major in something that isn't offered in the state, you can fly your pasty butt down to Florida if there's a public college that offers your major there.
While the Midwest Higher Education Compact and the Academic Common Market are only open to students in specific programs of study—namely programs that aren't available in the student's home state—the Western Undergraduate Exchange is open to students in "virtually all undergraduate fields." If you live in a border county and attend college just over the state line, your school may offer an out-of-state reduction for those living in your county. The College Board reports that the average out-of-state fee for a full-time student is $11,990 per year. A little research and a call to your financial aid office can save you more than $47,600 over the course of your college tenure.
10. Plan Ahead
You know all of those college movies where students get into college, do their thing and graduate in four short years before they know it? That's not how it goes down in the real world. Statistically, only about one-third of full-time students seeking a bachelor's degree graduate in four years reports the National Center for Education Statistics. Even more scary, just over half graduate in six years. That's two years past the point when your parents said they would cut off funding. Talking to your advisor and planning your college tenure can literally cut tens of thousands off of your college bill.
11. Maximize Summer
Summer school is a drag but so is ponying up for yet another semester. Streamline your college tenure correctly and you could get out in three rather than four years. Or at least have time to chill. Summer school, community college classes, internships, AP and CLEP exams and summer study abroad programs can all save money by helping you graduate faster. A course at a major university costs (using some cost accounting guessing here) 3 grand. That same course can be box-checked at the local Harvard-on-the-hill JC for 300 bucks. Or less.
12. Start Small
Nobody makes movies that glorify the two-year college experience. And we don't mean the fine work by Kim Kardashian. That's because the community college experience is not even close to the four-year college experience. Community and two-year colleges cost a mere pittance of their four-year rivals—$2,713 on average versus $16,140 at a public college or $36,993 at a private one—but don't have the same lavish campuses, research facilities or highly published profs. If you can deal with the bare bones amenities for a couple of years, you can transfer to the four-year school of your dreams with more money in your pocket. We won't tell a soul nor anyone in the capital of Korea.
Another way to save money in college is by joining USC Credit Union! Check out all of our options for students here.
To read the full article, please visit shmoop.com
"24 Ways to Save Money in College." www.shmoop.com. August 5, 2014. <http://www.shmoop.com/college/save-money-in-college.html>.