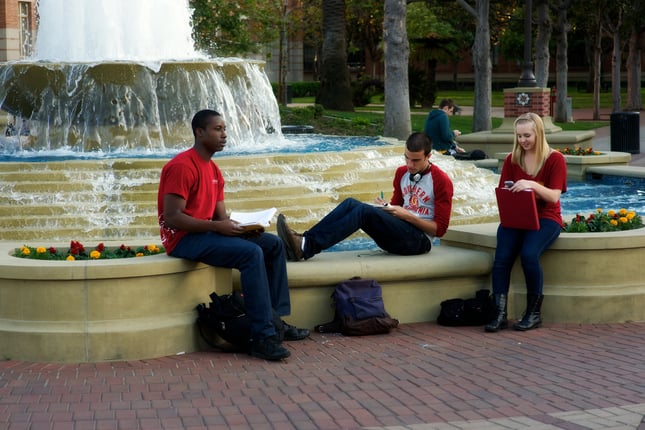 Living in Los Angeles and being a student at USC can get very expensive. A budget is necessary for students to avoid getting themselves into a cycle of debt.
The most important step a student can take in being financially responsible is becoming aware of how they spend their money. Make your money go further with these money-saving tips custom for SC students!
1. Make your own coffee rather than going to Starbucks.
2. Use generic items instead of name brands. Same product at a significantly lower price!
3. Want free housing and food? Become a Resident Assistant!
4. Get a Ralph's Card! Seriously! It saves you on average 40% off your grocery bill.
5. Make a list before you go grocery shopping to avoid impulse buys.
6. Don't go grocery shopping when you're hungry!
7. Rent used textbooks instead of buying new ones. Sell last semester's books back.
8. Decide in advance how many times a week you're going to eat out and stick to that number.
9. Meal prep! Not only does it support healthy living but it stops you from buying fast food because you already have food ready.
10. Sell what you no longer need. Sites like Craigslsit and Wallapop are perfect for selling clothes, technology, and other miscellaneous things.
11. Drink water. It's free and healthy.
12. Use your USC discounts! Places like Crenshaw movie theatre and the USC gas station offer significant discounts to students.
13. Go to the Lyon center rather than buying an off campus gym membership.
14. Open a savings account that earns interest. Credit unions have fewer fees and better rates for students.
15. When buying food at campus center, always bring your USC ID. They'll take off the sales tax!
16. Don't buy music. Use free services like Spotify or Pandora.
17. Read your USC email! At least once a week you'll get an email about some event on campus that has free food.
18. Limit impulse purchases by only carrying enough cash to buy what you plan for.
19. Use free tools like Mint.com or FinAid's Student Budget Calculator to keep track of finances. These tools categorize each one of your purchases so you know exactly where your money is going.
20. Look into off campus housing. In many cases it is cheaper to live in a house a few blocks away rather than a campus owned apartment.
21. Check out USC student run Facebook groups to get great deals on technology, books, and even housing subleases!
Utilize these tips and take charge of your finances! Good financial habits start young and making a habit of saving money can positively affect your long term future.