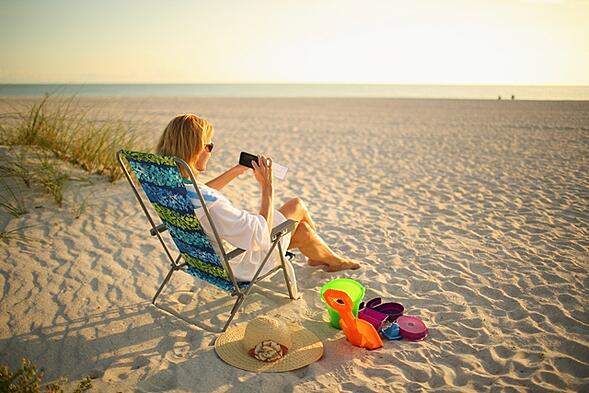 Don't let a fraudster, pickpocket or identity thief ruin your next vacation.
These 15 financial safety tips will show you how to protect your wallet, your valuables and your financial information when vacationing in America and abroad.
1. Lighten up your wallet
Only carry the credit cards you'll be using on your trip and leave the rest at home. Pack an ATM/debit card for withdrawing cash at ATMs.
Remove any card with your Social Security number. For health insurance cards, the Identity Theft Resource Center, a nonprofit organization focused on identity theft prevention, suggests making a copy of the card and removing the last four digits of your Social Security number. Bring the photocopy with you on your trip and leave the original card at home.
Leave your checkbook at home.
"Limit what documents you are going to carry with you," says Linda Foley, co-founder of the Identity Theft Resource Center. "Clean out your wallet and purse before you take that trip."

2. Use credit cards for major purchases
Most credit cards have zero-liability policies, meaning you won't pay a penny for unauthorized charges if a card is lost or stolen."Limit what documents you are going to carry with you," says Linda Foley, co-founder of the Identity Theft Resource Center. "Clean out your wallet and purse before you take that trip."
The Fair Credit Billing Act specifies that your maximum liability for unauthorized credit card charges is $50. So that's the most you'll end up paying if a thief should get a hold of your credit card.
"If you're worrying about safety, I don't think you can go wrong with credit cards," says Anne Banas, executive editor of SmarterTravel.com.
The sooner you alert a credit card company of a lost or stolen card, the better. So bring contact information for each of your credit cards with you on the trip.
You also can alert your credit card company if you're unsatisfied with the quality of a purchase that you make with your card or if a credit card purchase gets lost or stolen.
Brice Gosnell, regional publisher for Lonely Planet, bought a pair of sunglasses with a credit card while traveling in Italy. When a thief nabbed the sunglasses, all Gosnell had to do was make a quick phone call to his card company, and the money for the stolen sunglasses was refunded to his account.
"Using a credit card is just a smarter best bet," Gosnell says.
3. Pack a backup credit card
It's best to travel with a backup credit card or two. That way, if a card gets lost or stolen, you'll have another card you can use for major purchases such as hotel rooms and rental cars. And you can continue with your vacation without a hitch.
"Absolutely bring at least two credit cards," Banas says. "Definitely have at least one backup."
Keep your backup cards secure in the hotel safe so they'll be there if you should need them.
4. Watch out for bogus ATMs
Getting cash while on vacation is a snap if you pack your trusty ATM card. Just be sure the cash machine is legit before inserting your card.
Thieves place phony ATM machines at high-traffic tourist areas. So stick to ATMs that are near banks or in airports or in hotels.
Visa and MasterCard have worldwide ATM locators on their Web sites. So it's easy to scope out legitimate ATM locations in the areas where you'll be traveling.
5. Keep a close eye on that debit card
Debit cards are handy for withdrawing cash from ATMs and making small purchases while traveling. But you'll want to keep close tabs on your debit card at all times. It is linked directly to your checking account, and if a thief nabs the card, your account could be emptied in no time.
ATM and debit card transactions are protected under the Electronic Fund Transfer Act. But you'll need to act fast to limit your liability for the fraudulent transactions.
To limit your liability to $50, you'll need to report the bogus debit card charges to your bank within two business days. After that, you could be on the hook for as much as $500 in unauthorized charges. (There is a $500 liability limit for up to 60 days after the bank statement reflecting the fraud is mailed to you.)
So keep a close watch on your debit card. And contact your bank immediately if your ATM/debit card is lost or stolen.
How can USCCU help?
Travel with confidence this summer, update your account before you board. If you're a USC Credit Union member traveling abroad, let us know about your plans so you can have acces to your money. So before you go, please contact us at 213.821.7100 or simply download and send the travel notification form back to us via email usccu@usccreditunion.org, fax (213) 821-7151, or return it to one of our branches to prevent your card from being blocked by our fraud prevention services. If we suspect that a questionable activity has occurred, we will contact you to verify the transaction. Enjoy your vacation!
To read the full article, please visit Bankrate.com
By Lucy Lazarony • Bankrate.com
Lazarony, Lucy. "15 Ways To Protect Your Money on Vacation" Bankrate.com. July 3, 2009. July 15, 2014. <http://www.bankrate.com/finance/personal-finance/15-ways-to-protect-your-money-on-vacation-1.aspx>.
Need a vacation? Pick a destination. With USC Credit Union's summer fun loan, we can help you get there!